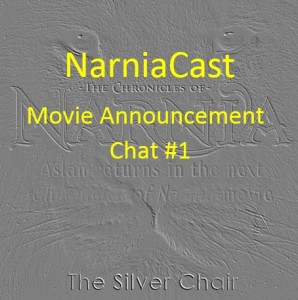 As you may know, on October 1st Douglas Gresham announced  The Sliver Chair will be the next movie. While this news was not totally unexpected, it was unclear as to when we would hear news of a Narnia 4. Therefore, the planned release of the 7th book discussion on The Last Battle has been delayed. On October 14th William O'Flaherty gathered together some of the previous guests on NarniaCast to talk about the movie announcement.
(Listen by clicking on the PLAY button below the Show Notes, or click the image on right to listen)
The following is the first of a two-part chat with Dr. Charlie Starr, Dr. Devin Brown, Dr. Bruce Edwards, Dr. Crystal Hurd and Paul Martin. Each program is about 30 minutes.
 SHOW NOTES/LINKS:

NarniaCast Ep 7 – The Silver Chair Movie #1 (Various Guests)
[ 32:26 ]
Play Now
|
Play in Popup
|
Download